Our very own Lauretta Quimby has been named Team Member of the Year for Courtyard by Marriott hotels in the U.S. and Canada. This award honors the best of the best, demonstrating achievement in Service Excellence, Teamwork and Contributing to Hotel Performance.
Lauretta is our beloved Bistro Manager who has been delighting guests and teammates since joining our Courtyard Wausau hotel in 2011. Her servant heart, genuine care for others and superhuman memory make her an all-star hospitality professional and a total joy to work alongside.
When Bistro life gives Lauretta overripe bananas, she makes banana bread for guests and the team. This is just one of the ways Lauretta stands out in the crowd of Marriott associates nationwide. Other fun facts from her nomination include:
She struggled so much in learning the POS system that our general manager worried she may not be the right fit, until they figured out all she needed was to put her glasses on! The following year, Courtyard Wausau placed first for Friendly and Attentive Breakfast staff.
Lauretta's tenure at the Courtyard combined with her incredible memory play have a powerful influence on guest satisfaction and ensuring repeat customers. If a guest stayed here 3 years ago and got a Grande, non-fat, caramel & vanilla latte with cinnamon sprinkled on top she will remember them, along with the name of their dog and where they went to high school. And there are plenty of guest reviews to prove it, like this one: "We always have a fantastic experience at this Courtyard by Marriott. The staff is very kind and helpful. Lauretta even remembers our drink orders and makes them for us as we walk up to the counter" – Ginnie
Speaking of guest reviews, Lauretta is mentioned in a whopping 37% of the hotel's guest satisfaction surveys last year.
Her personality is so magnetic she has been recommended to strangers on airplanes, included in family photos and even mentioned in a pick-up line at a local bar.
Please join us in celebrating and congratulation Lauretta on the well earned honor of Team Member of the Year. We are so thankful to have her on our Courtyard Wausau team!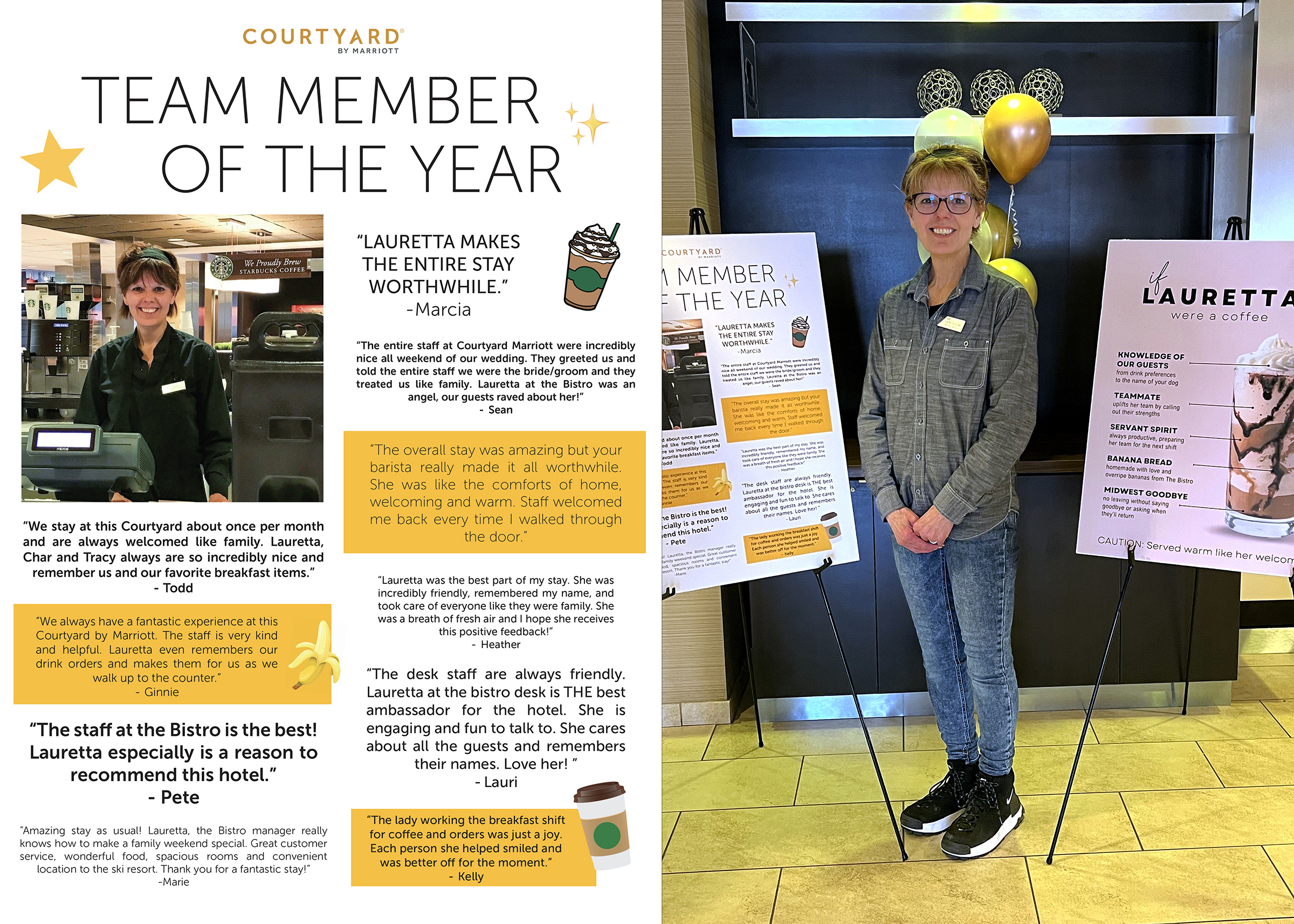 About Ghidorzi Hotel Group, a Division of Ghidorzi Design | Build | Develop
Ghidorzi is a fully integrated design build construction, real estate development, architecture and interior design firm. The Ghidorzi design build construction approach gives owners a single source of accountability for bringing their project vision to life. The Ghidorzi Hotel Group proudly serves the business, corporate and leisure travel needs of greater Wausau with a team of exceptional hospitality professionals across three best in class properties, including the Hilton Garden Inn Wausau featuring our spirited restaurant Van Acre, Courtyard by Marriott® of Wausau and Fairfield by Marriott® of Wausau.