Take a walk in the shoes of a kid, and your world will get a lot more colorful. Our design build team recently did just that in creating the Youth Lobby at the Woodson YMCA in downtown Wausau. This dedicated space is for the Y's tween members who have outgrown Mini Care but aren't old enough for other program areas. This is their turf for studying, hanging out and socializing with peers and family.
First, we relocated the Youth Lobby from the lower level, positioning it on the main level in a centralized location within the Social Court, adding energy and color to this inclusive space while allowing easy supervision.
Next, our team's priority was to design a vibrant space with instant appeal to its tween audience. Creating a neutral framework allowed us to go big with design elements, including bold furnishings and edgy ceiling panels. One façade in particular stood out as the perfect place for an accent wall, and one option in our creative material selection process emerged as the clear winner – the upcycled skateboard wall, made in the USA from the artisans at Skate or Design.
Lighting and sound absorption were two important functional design considerations. Dimmable, modern lighting enhance the overall brightness of the interior space and hang alongside dynamic sound baffles from Turf for maximum noise absorption. Another functional design component that also adds volume to the Youth Lobby is the stadium seating, which offers a seating option beyond the counter or conventional table and chairs. Note that this area is also equipped with ample outlets for charging.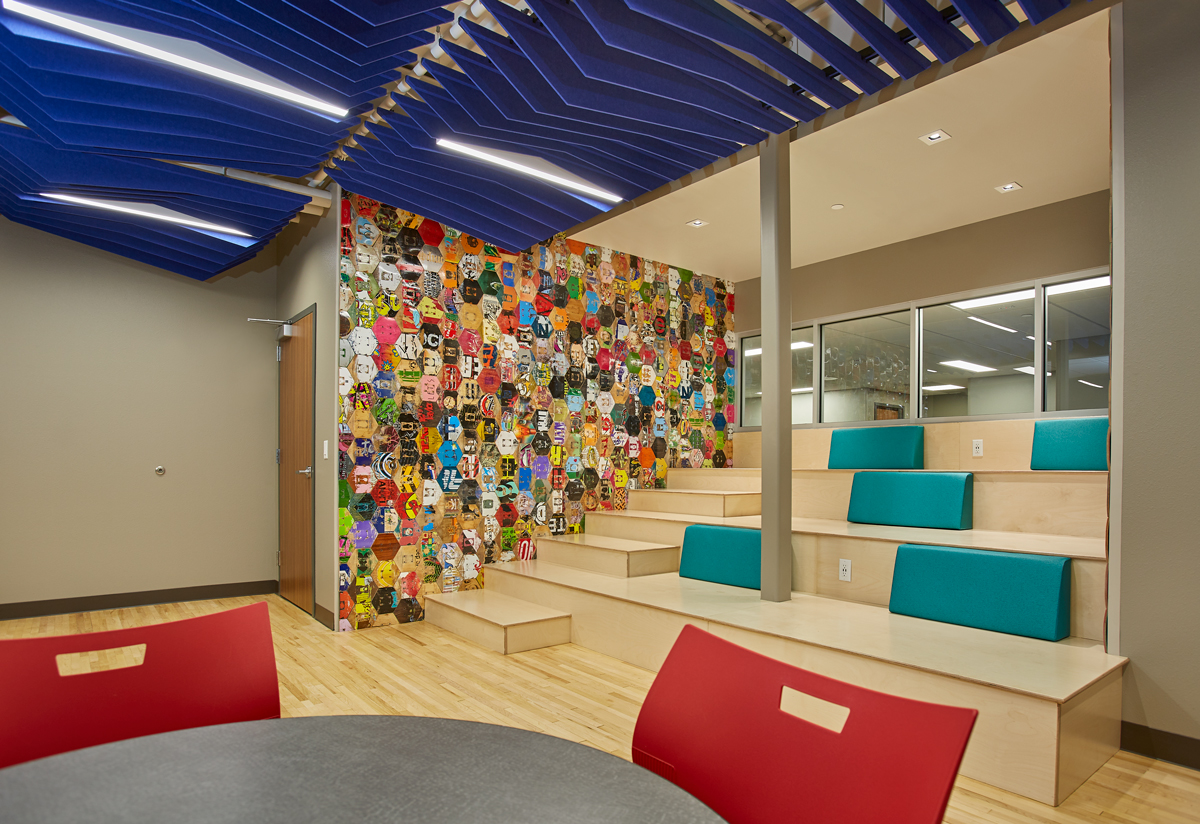 A media center pairs comfortable counter seating and workspace with a flatscreen monitor for a variety of flexible uses.
Finally, what hangout would be complete without game tables? This one is appointed with foosball and air hockey with enough space to maneuver comfortably around each.
This area is now open with Back to School hours. Learn more here.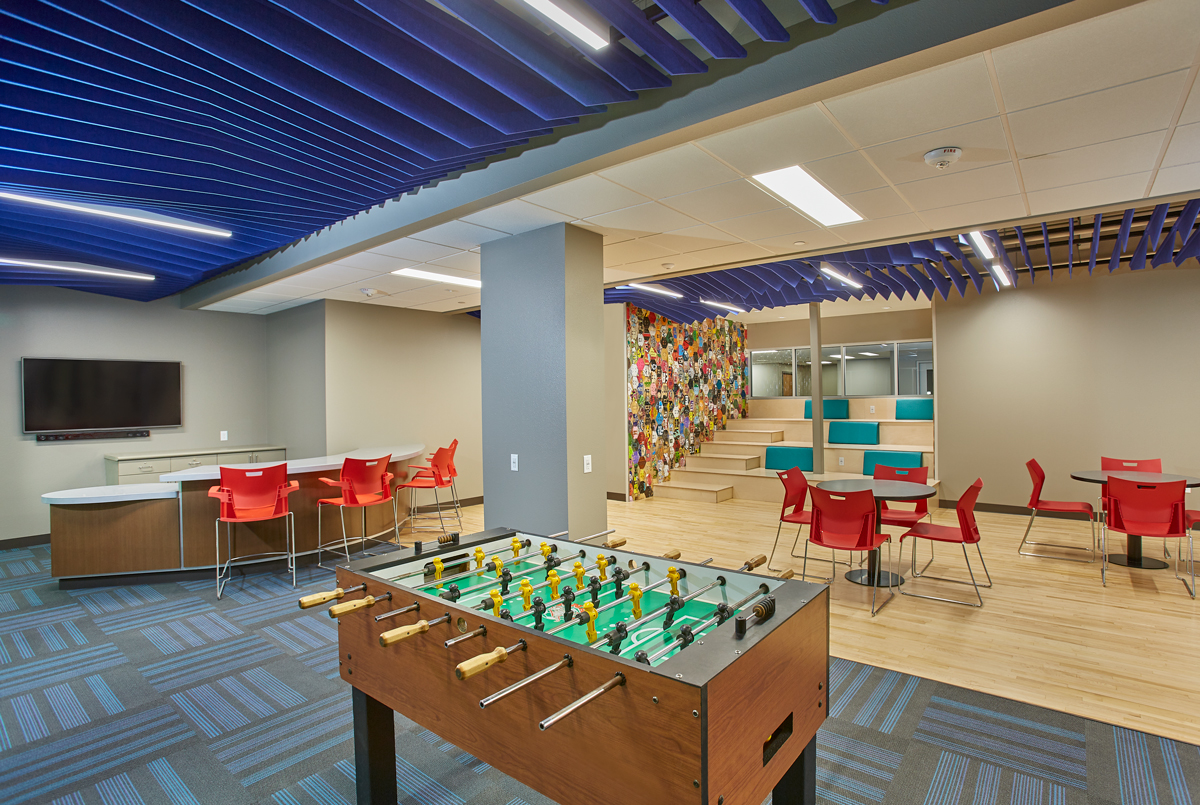 The Youth Lobby at the Woodson YMCA is part of the comprehensive expansion and remodel for which Ghidorzi is serving as master planner, architect, general contractor and interior designer under our design build delivery model. Read about the full scope and many exciting aspects of this project here:
The Landing at the Woodson YMCA Achieves Best-in-Class Activity Center for 55+ Adults with Support of Dwight & Linda Davis Foundation and Wausau Community
Doors Open to the Woodson YMCA Expansion Including Field House, Program Gym, The Landing 55+ Activity Center and Wellness Center Renovation
The Woodson YMCA B.A. & Esther Greenheck Foundation Child Care Center Renovation is Now Complete
Woodson YMCA Shares Details of its Expansion and Modernization