WAUSAU, WIS., April 20, 2016 – Ghidorzi is pleased to announce that the regulatory approvals are in place to move forward with the Hilton Garden Inn Wausau following a Town of Rib Mountain meeting.
The Hilton Garden Inn Wausau will be a landmark hotel and conference center for business and leisure travelers. The 107-room property will have 5,900 square feet of premium conference space featuring a dynamic pre-function area with an event capacity of 300.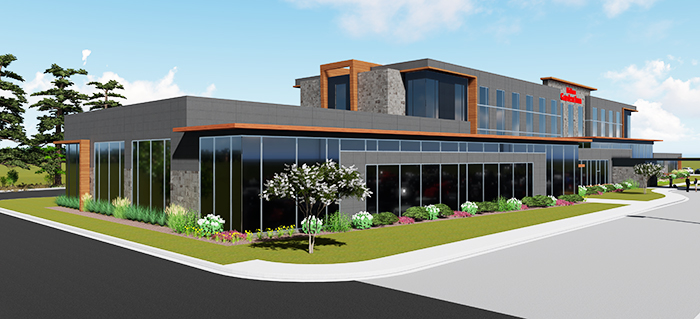 "The hotel is being designed from the ground up by the Ghidorzi design build team to deliver on today's guest expectations for an outstanding hotel and conference center experience now and into the future," said Chris Ghidorzi, head of the Ghidorzi Hotel Group. Ghidorzi is building off of the success of its Courtyard by Marriott and Fairfield Inn & Suites by Marriott of Wausau hotels, which regularly rank at the very top of their brands nationwide for guest satisfaction, an achievement that Ghidorzi attributes to exceptional service from hotel staff and innovative building design.
The Hilton Garden Inn Wausau design is centered on the primary guest touchpoints that influence the overall hotel experience, including the presence of the building from the highway, setting when you enter the site, look and feel of the lobby, amenities offered onsite and atmosphere of the guest rooms.

Architectural features of the building will be set off by stone, metal and wood grain products, glass and other thoughtfully chosen materials to complement the Wausau landscape. Details such as landscaping and signage have also been designed to enhance the ambiance of the hotel.
The hotel is on track to open in 2017.
About Ghidorzi
Ghidorzi is a fully integrated design build construction, real estate development, architecture and interior design firm with projects in Wausau, Madison and throughout Wisconsin. The Ghidorzi design build construction approach gives owners a single source of accountability for bringing their project vision to life.  The Ghidorzi Hotel Group proudly serves the business and leisure travel needs of greater Wausau with a team of exceptional hospitality professionals across four best in class properties, including the Courtyard by Marriott®, Fairfield Inn & Suites by Marriott®, Westwood Conference Center and The Apartments at Corporate Cove. Ghidorzi will open the Hilton Garden Inn Wausau in 2017.
About Hilton Garden Inn
Hilton Garden Inn is the award-recognized, peaceful and energizing hotel brand that continually strives to ensure today's busy travelers are appreciated and have everything they need to be most productive on the road. Hilton Garden Inn offers the amenities and services for travelers to sleep deep, stay fit, eat well and work smart during their stay. Approachable and professional team members operating at more than 650 hotels around the world are committed to providing a welcoming and dependable hotel experience for every guest, every time which is reflected in the satisfaction promise to do whatever it takes to ensure every guest is satisfied, or they don't pay. You can count on us. Guaranteed™. Hilton HHonors members who book directly through preferred Hilton channels have access to benefits including free standard Wi-Fi, as well as digital amenities that are available exclusively through the industry-leading Hilton HHonors app, where HHonors members can check-in, choose their room, and access their room using a Digital Key. Visit, www.hgi.com or news.hgi.com for more information about our locations.