The 30,400 sq. ft. addition to the EAA Aviation Museum in Oshkosh was proudly on display last week at AirVenture, the World's Greatest Aviation Celebration. EAA invested in the $6.2 million expansion to bring year-round aviation education and training to current and future aviators. Ghidorzi had the pleasure of serving as architect, general contractor and interior designer for this project under our design build construction model. The project was delivered on schedule 14 months after groundbreaking.
Highlights include a Pilot Proficiency Center, hands-on Youth Education Center and banquet and conferencing space. Each area is designed to achieve an engaging learning environment with optimal flexibility to adapt as the industry of aviation evolves into the future.
Material selection for the addition's exterior sets the tone for innovation with a modern aesthetic that establishes a focus on the future of aviation. A seamless transition from the existing building to the new addition is achieved with tapered aluminum and zinc panels and a glass curtain wall that spans both stories of the building.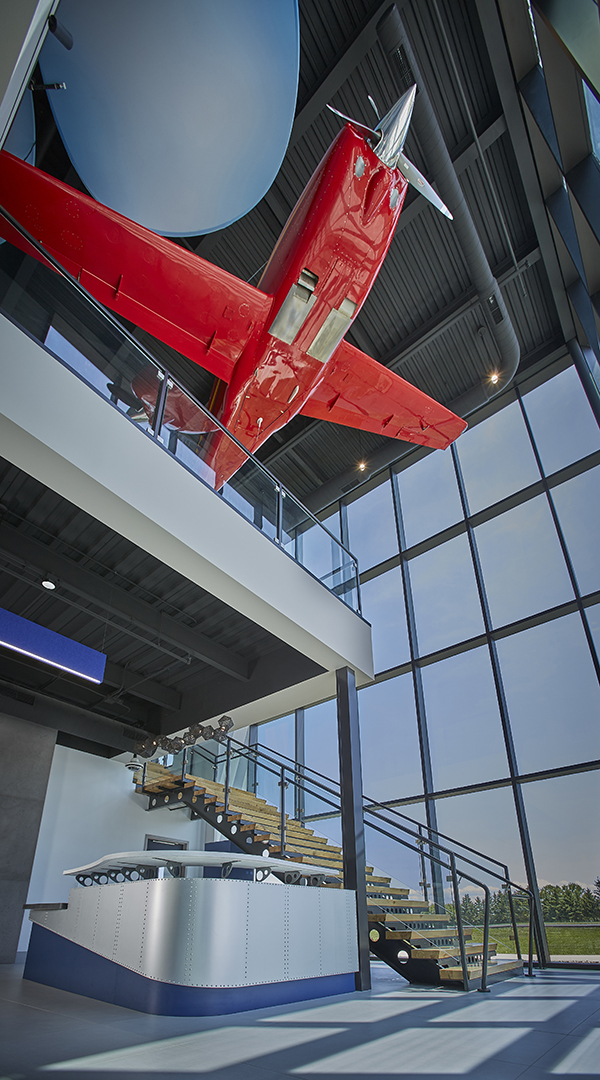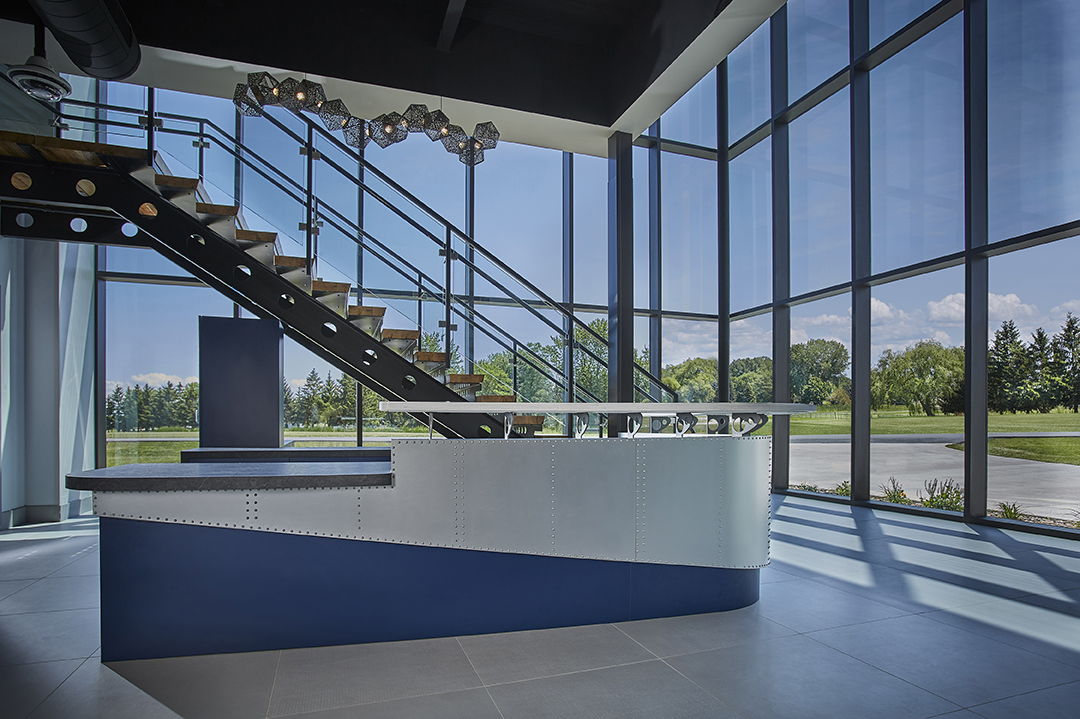 This glass curtain wall forms a spectacular glass atrium that welcomes visitors while also providing easy and intuitive access to the facility. The spirit of aviation is echoed throughout, starting with the fully suspended Swearingen SX-300, custom front desk and viewing corridor of the Pilot Proficiency Center.
This state-of the-art training space is equipped with one full motion and 16 stationary flight simulators. Relevant safety forums are combined with challenging simulator sessions to improve the aeronautical decision-making skills of pilots. Acoustic ceiling tiles and insulated glass are utilized to reduce noise. Window walls encourage spectating from the lobby and events in the 6,400 sq. ft. of adjacent conference center and pre-function space.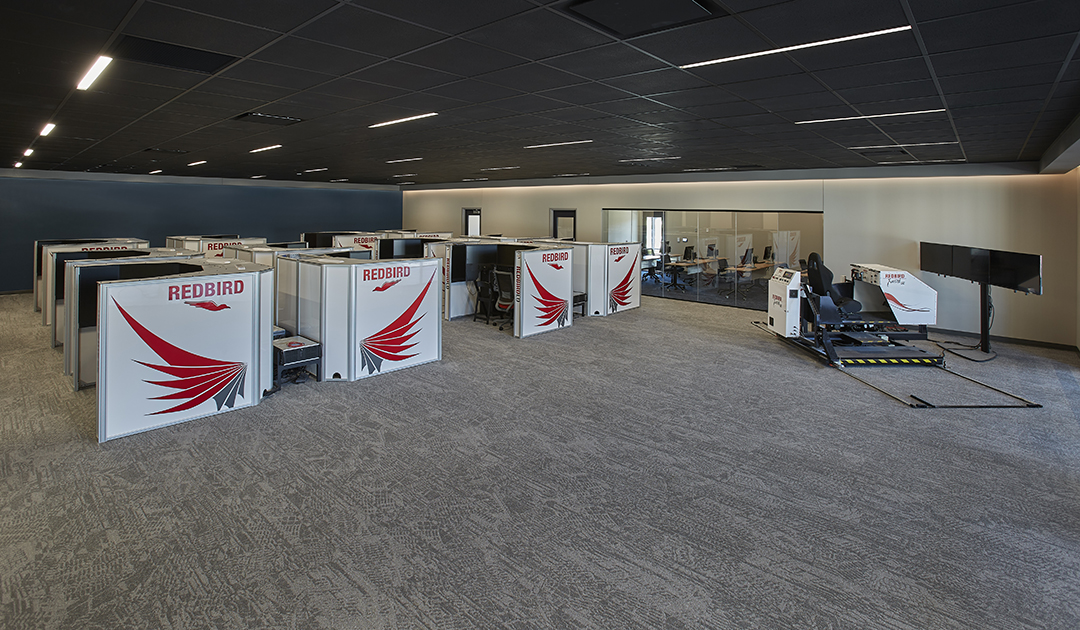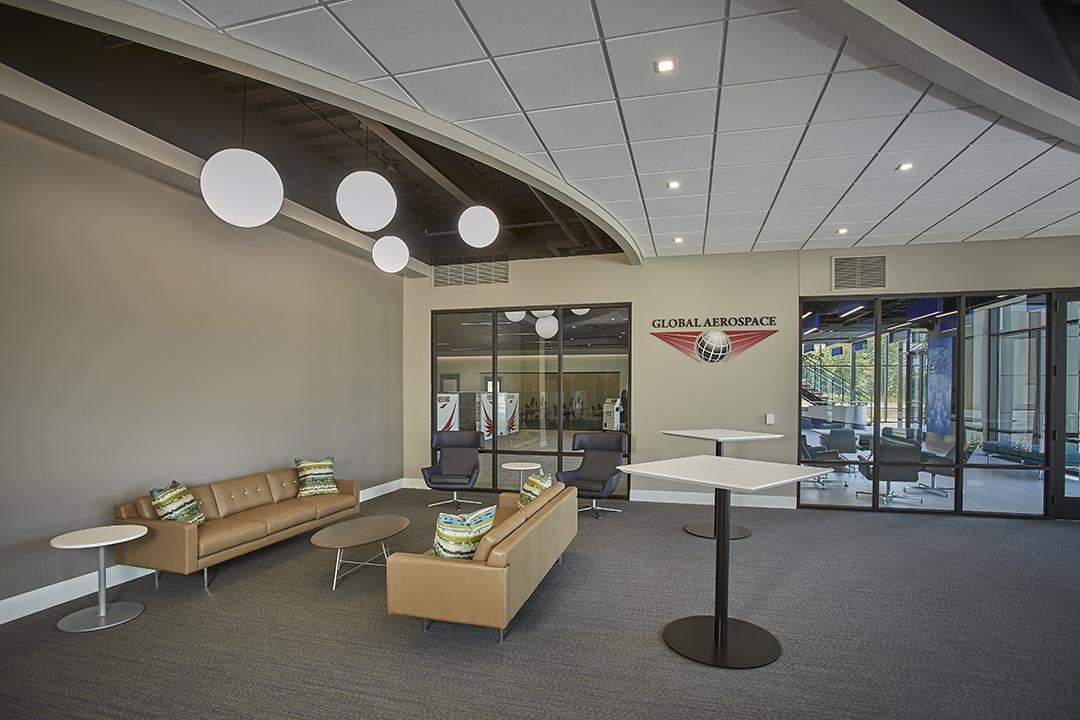 Reclaimed white oak stairs elevate visitors to the second floor where a second airplane, a retired S-LSA RV-12iS, comes into view. Floor to ceiling windows offer a bird's eye view of landings and takeoffs on the museum's private Pioneer grass runway.
Barrel vaulted streel trusses were utilized to add airport energy to this floor where the Youth Education Center brings 15,000 sq. ft. of aviation-centric experiences to kids from 5-18 years old. Known as KidVenture, this dedicated space provides youth, their parents and teachers access to project-based activities with five learning labs that inspire and nurture the next generation of aviators in all facets of aviation, including design, building, maintenance, electronics and flight. A functional wind tunnel simulator and 3D printers are just part of the fun, along with interactive screens imbedded into the wall panels to stream content from outside and within the labs. The dynamic floor colors flow into each other to effortlessly connect these learning environments.
The ultimate flex space is also located on the second floor. Retractable wall panels create maximum versatility in the floor plan, ranging from open event space to four private classrooms or any configuration in between.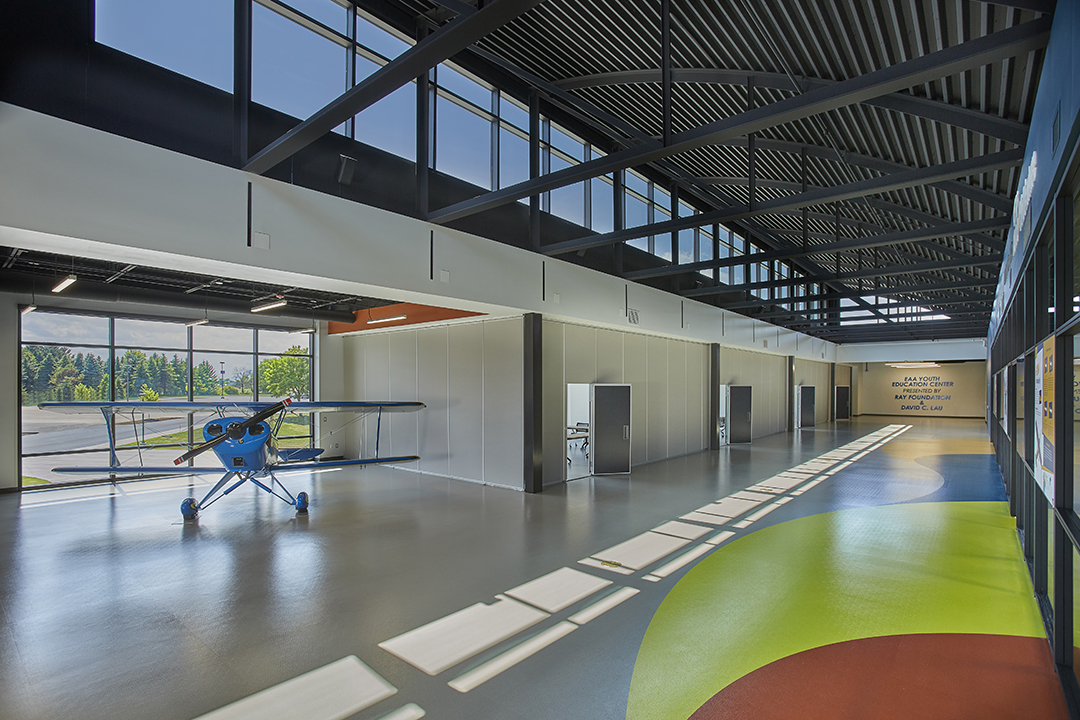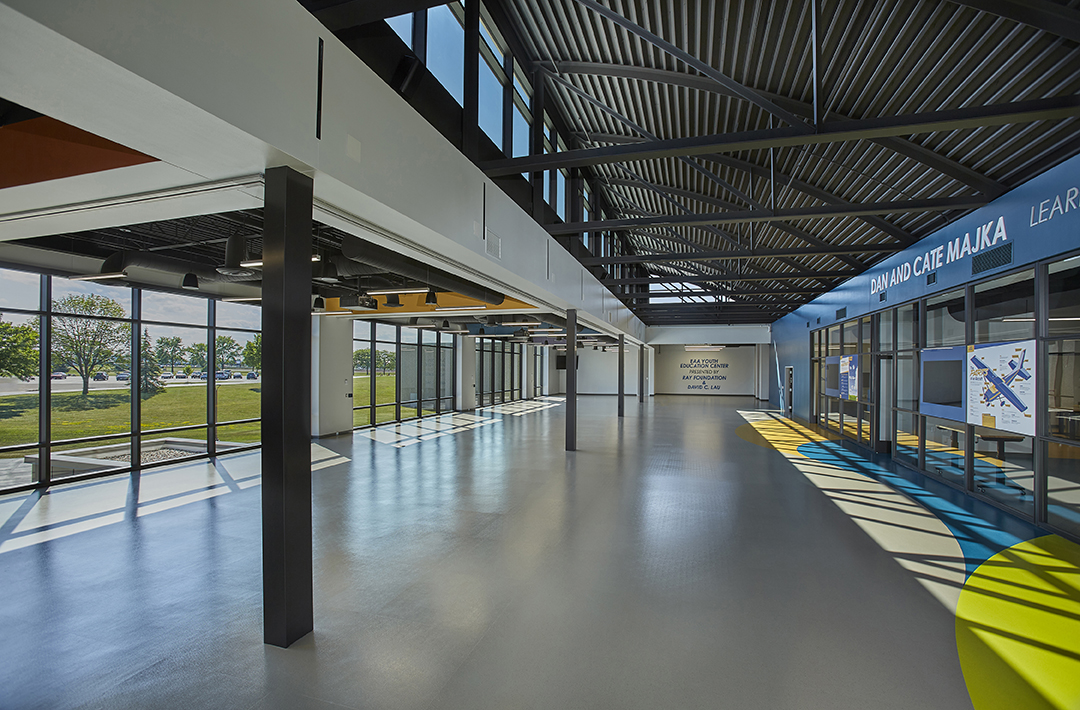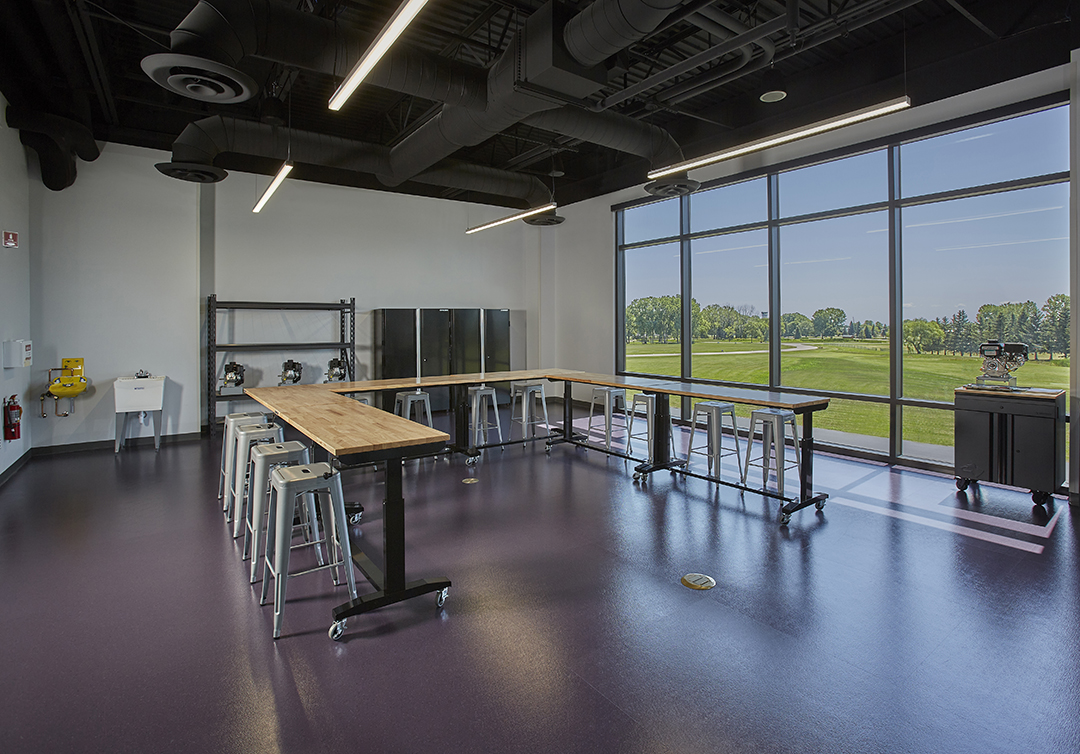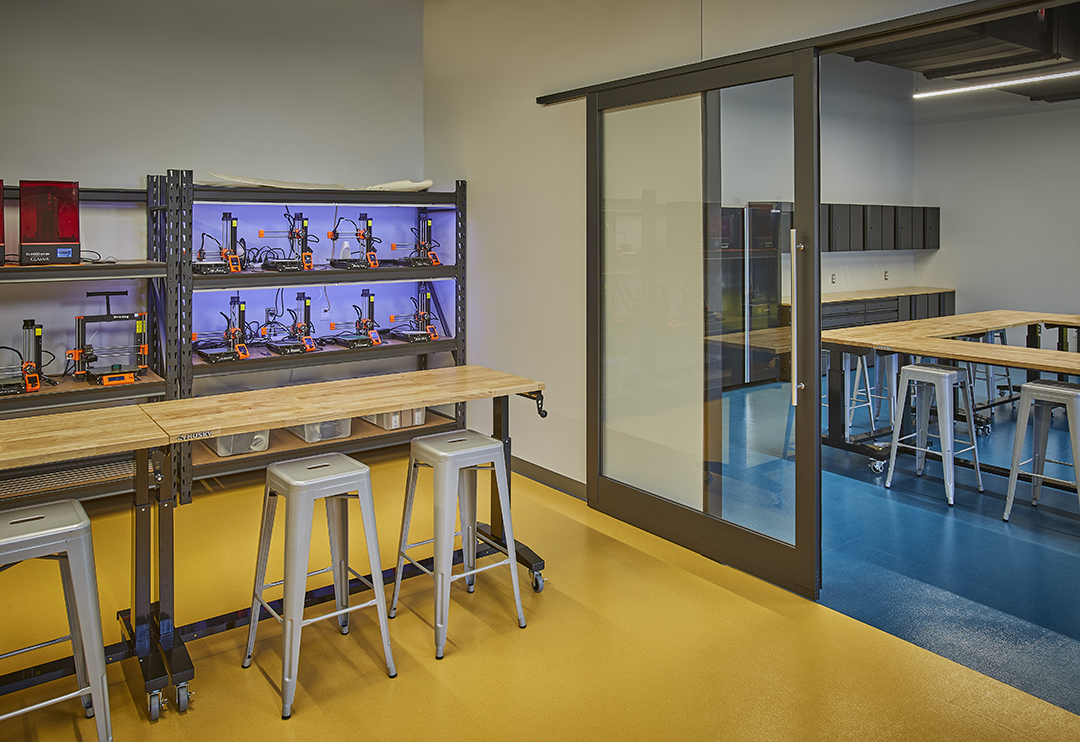 This addition to the EAA Aviation Museum will surely serve as a valuable resource for current and future aviators of all ages for many years to come.
About Ghidorzi Design | Build | Develop
Ghidorzi is a fully integrated design build construction, real estate development, architecture and interior design firm based in Wausau, WI. The Ghidorzi design build construction approach gives owners a single source of accountability for bringing their project vision to life. The Ghidorzi Hotel Group proudly serves the business and leisure travel needs of greater Wausau with a team of exceptional hospitality professionals across three best in class properties, including the Hilton Garden Inn Wausau featuring our new restaurant Van Acre, Courtyard by Marriott®, Fairfield Inn & Suites by Marriott®, and The Apartments at Corporate Cove.