What better time to talk about the growing trend of winter weddings than the eve of Valentine's Day, the most popular day for popping the question.  The increase in cold weather nuptials is clear at our Westwood Conference Center, Wausau Fairfield,Wausau Courtyard, and Howard Johnson hotels where we host ceremonies, receptions and overnight guests.
Becky Thielen, who manages Westwood Conference Center, has seen more interest in winter bookings in the last year than in spring.  Dan Burg, General Manager of the Courtyard by Marriott of Wausau, says that couples are warming up to the idea of winter weddings for flexibility in planning their big day.  Availability of facilities, guest rooms and wedding-related vendors (think photographers, florists) tends to be more open in the winter than in warmer weather months.  Facilities are also more likely to offer a discount in the off-season.
With winter weddings top-of-mind among our hospitality team, we have encountered many a cool Web tool to assist happy couples in planning.  In the spirit of Amoré, here are a few favorites.
Color Scheme Inspiration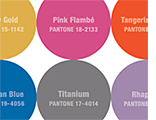 Color schemes have become as sophisticated as wedding planning.  Fortunately, Fall Fashion Week is upon us, and the color experts at Pantone® have provided a complete color report for the upcoming seasons.  To view the report, click here.
End-to-End Fashion for the Occasion 
Style Me Pretty's Look Book is full of inspiration to help you find your dream wedding look.  With everything from wedding party to mother of the bride and all the accessories in between, the increased cold-weather options are a testament to the trend.  (And yes, the bridesmaid dress picks are on par with the Pantone Predictor).
Do-It-Yourself Decorations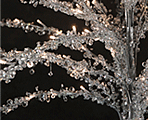 There has never been a better time for do-it-yourself brides, thanks to über-creative bloggers and the super accessible wedding isle of your nearby arts & crafts store. An added resource we have come to rely upon is save-on-crafts.com, which offers endless options for your wedding décor, with your budget in mind.  In our experience, the selection is second-to-none, as is the customer service and quality for dollars spent.  A house favorite for winter affairs, LED branches.
Honeymoon Bankroll
No matter what time of year you plan your wedding, remember that reward points are a smart way to pay for honeymoon costs.  You collect points for every room night reserved in your wedding block.  Here's how it works at each of our properties: