The Ghidorzi design build team worked with Connexus to transform their 13,052 square foot branch in Wisconsin Rapids with a comprehensive remodel. The progressive new space was designed for innovation to meet the banking needs of the future and for increased capacity to support the community with expanded employment opportunities for local residents.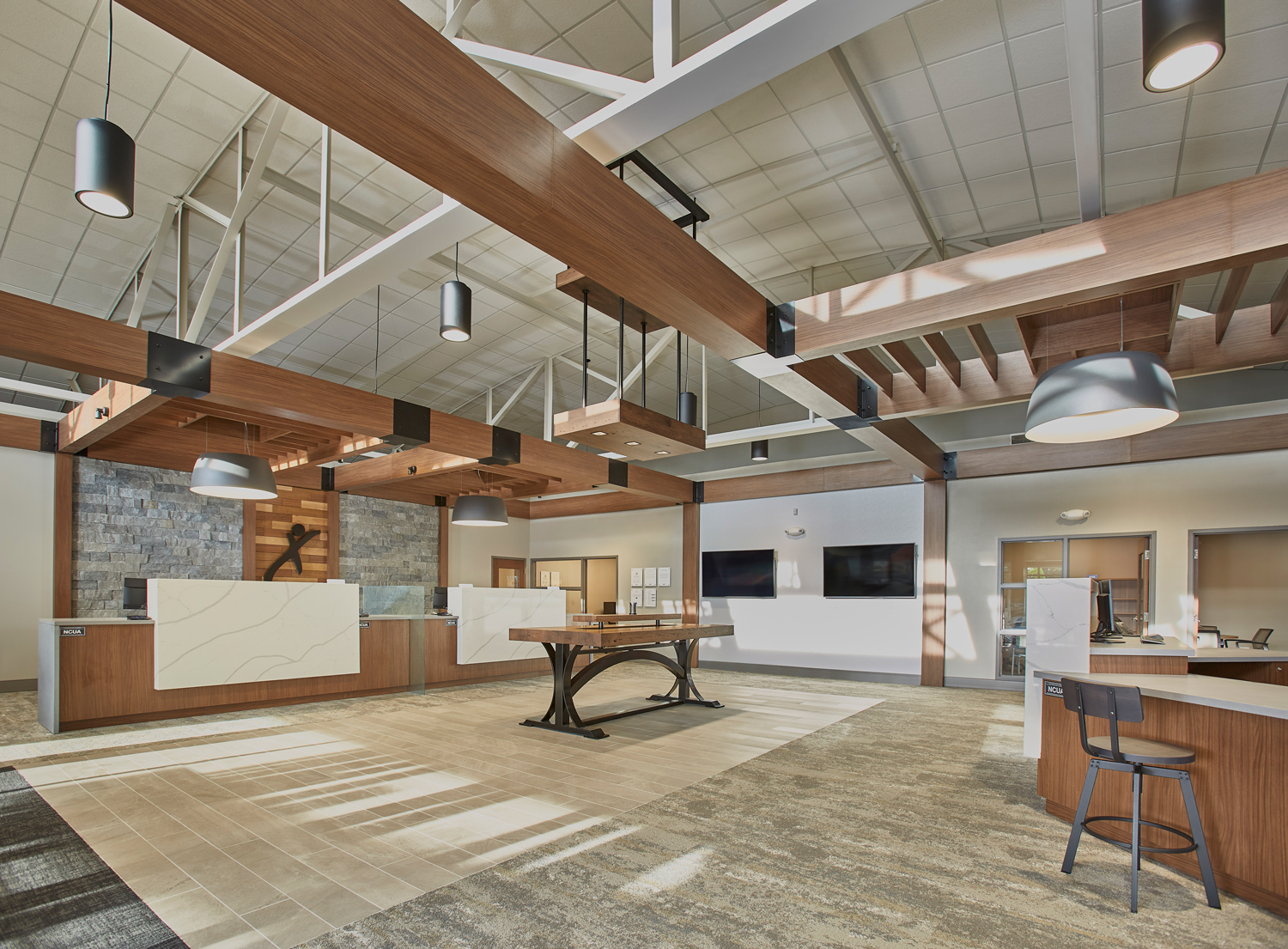 The existing square footage of the building was maximized to meet the range of banking needs for members, while equipping employees with a vibrant workspace with enhanced amenities. The interior and exterior were resurfaced with finishes that balance warmth with clean contemporary lines to reflect the Connexus brand.
The open concept lobby showcases the many diverse spaces that serve member needs. The teller area features a generous island workspace adjacent to the teller counters, which have been lowered to provide more personalized service. Nearby is the solution center, a dedicated kiosk created for staff to offer information and assistance beyond teller transactions. Private rooms are also available for in-depth support. A lounge with a beverage center and soft seating adds comfort and a touch of hospitality. Finally, the private offices of the management team are located within the lobby to further support members in their banking needs.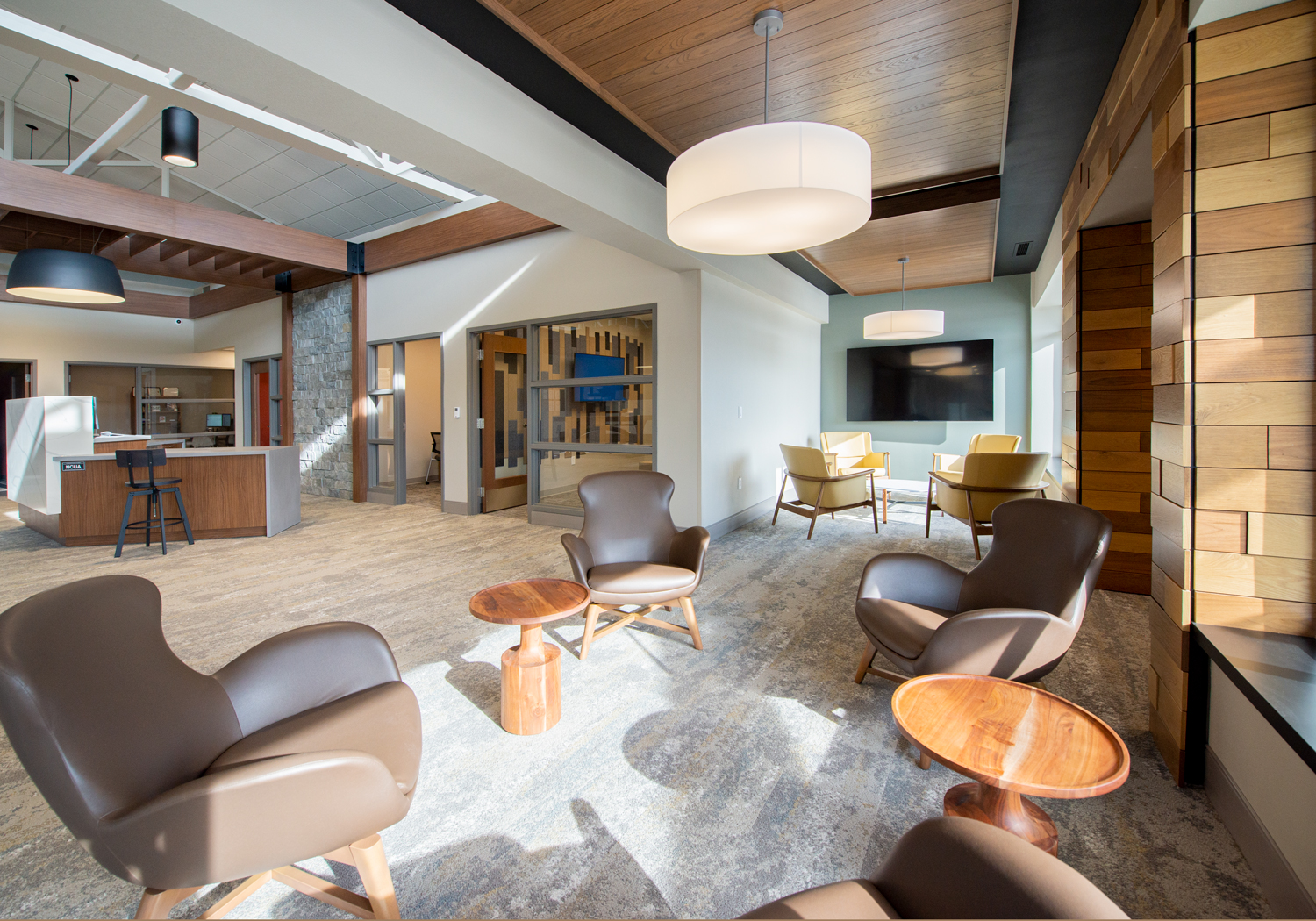 Open sightlines throughout the lobby allow the greatest level of guest service while maintaining banking privacy, an important consideration in the design of this project. Glass walls are utilized in offices to ensure staff and members are visible to each other while strategically placed partitions reinforce privacy.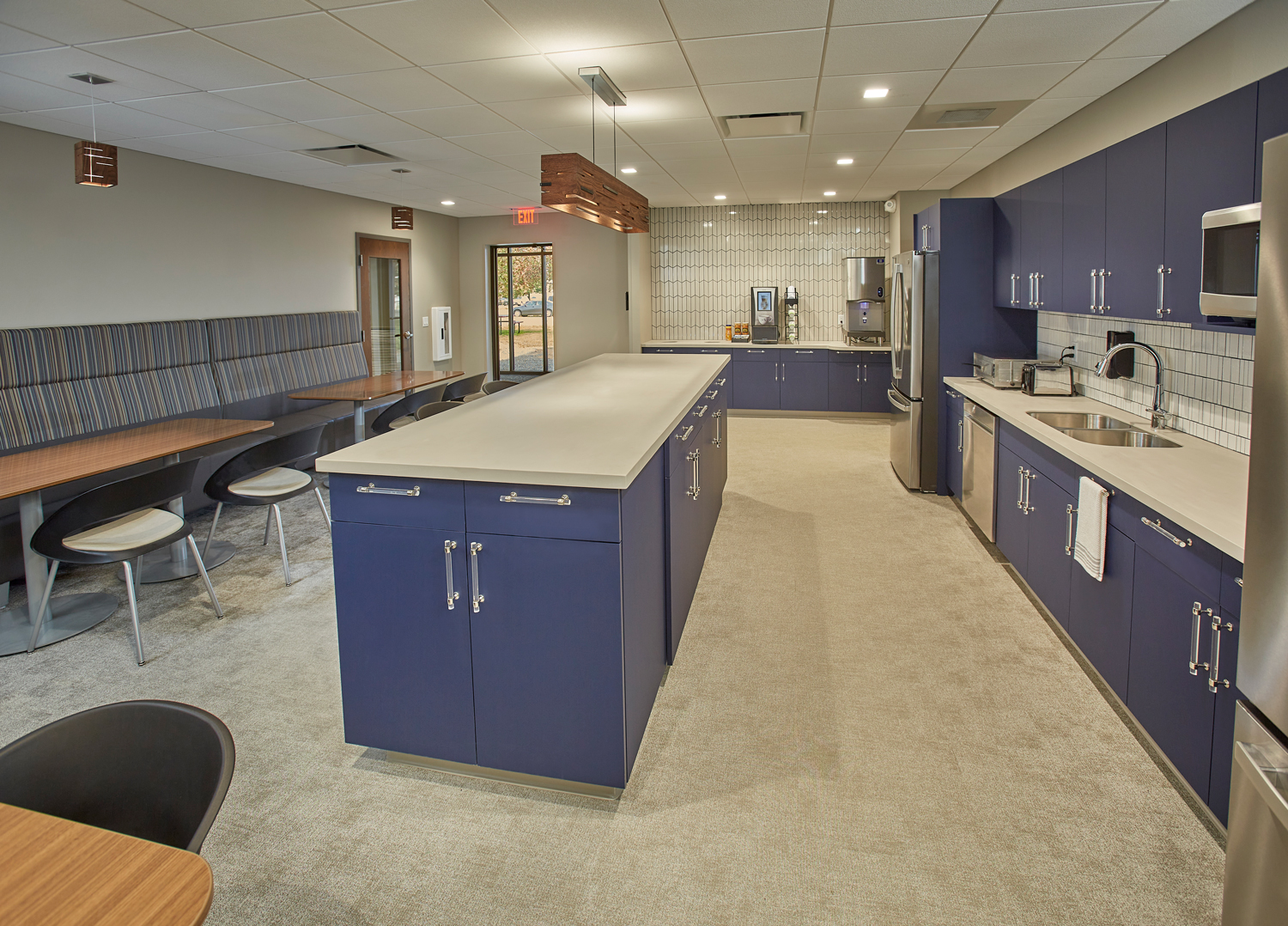 Square footage was allocated to enhance worker amenities. The staff lounge, complete with new appliances and a vibrant look, was relocated to a central location for easier access and is complemented by a new outdoor patio. Private booths were created for shared use among staff for personal use. Unused hallway space was repurposed to achieve a larger restroom footprint with updated fixtures and finishes, in addition to a lactation room.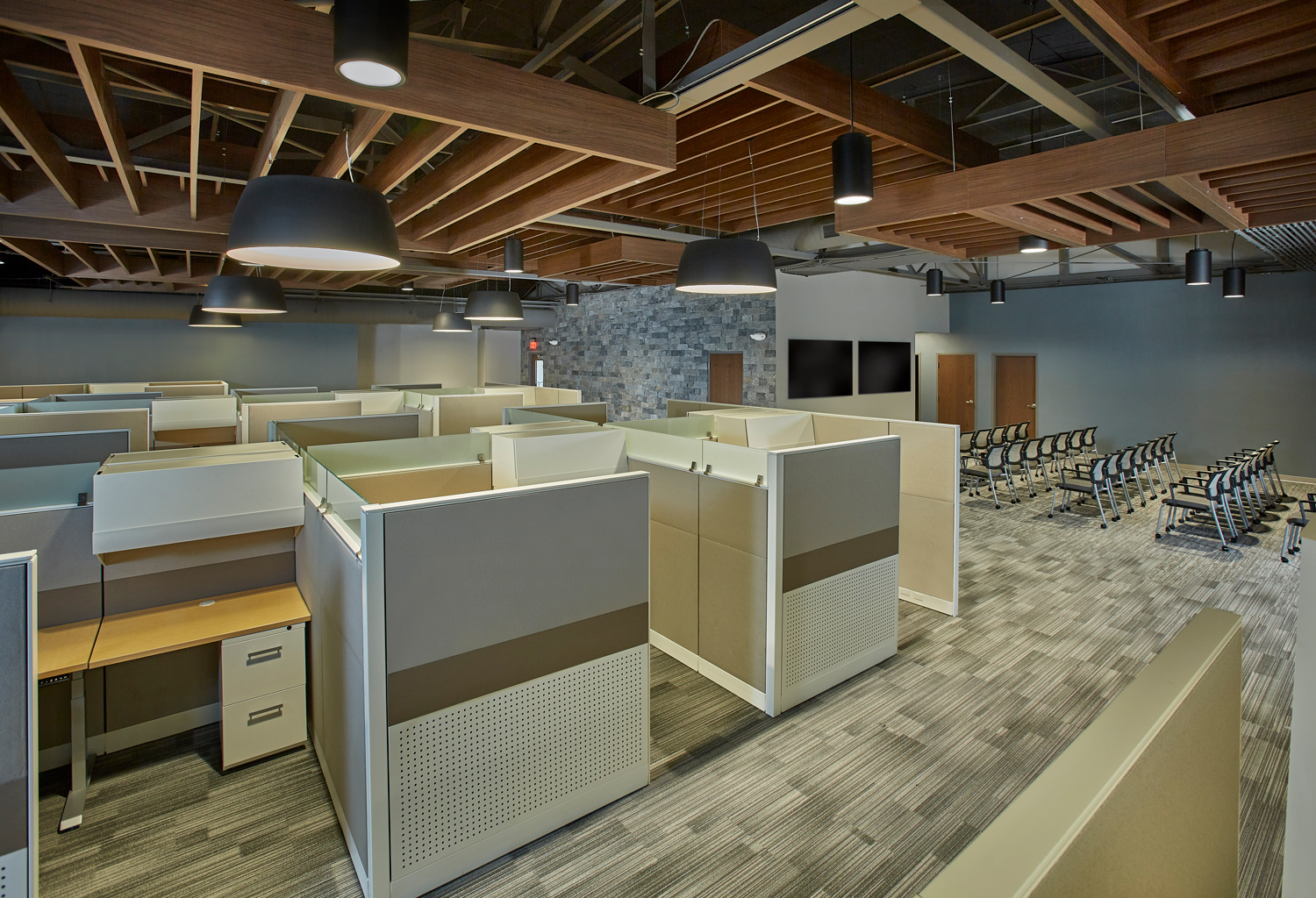 The call center capacity was increased to accommodate more workstations and is positioned next to a newly created meeting and group collaboration space. A dedicated training space with capacity for 12 people was also added offering interactive meeting capabilities.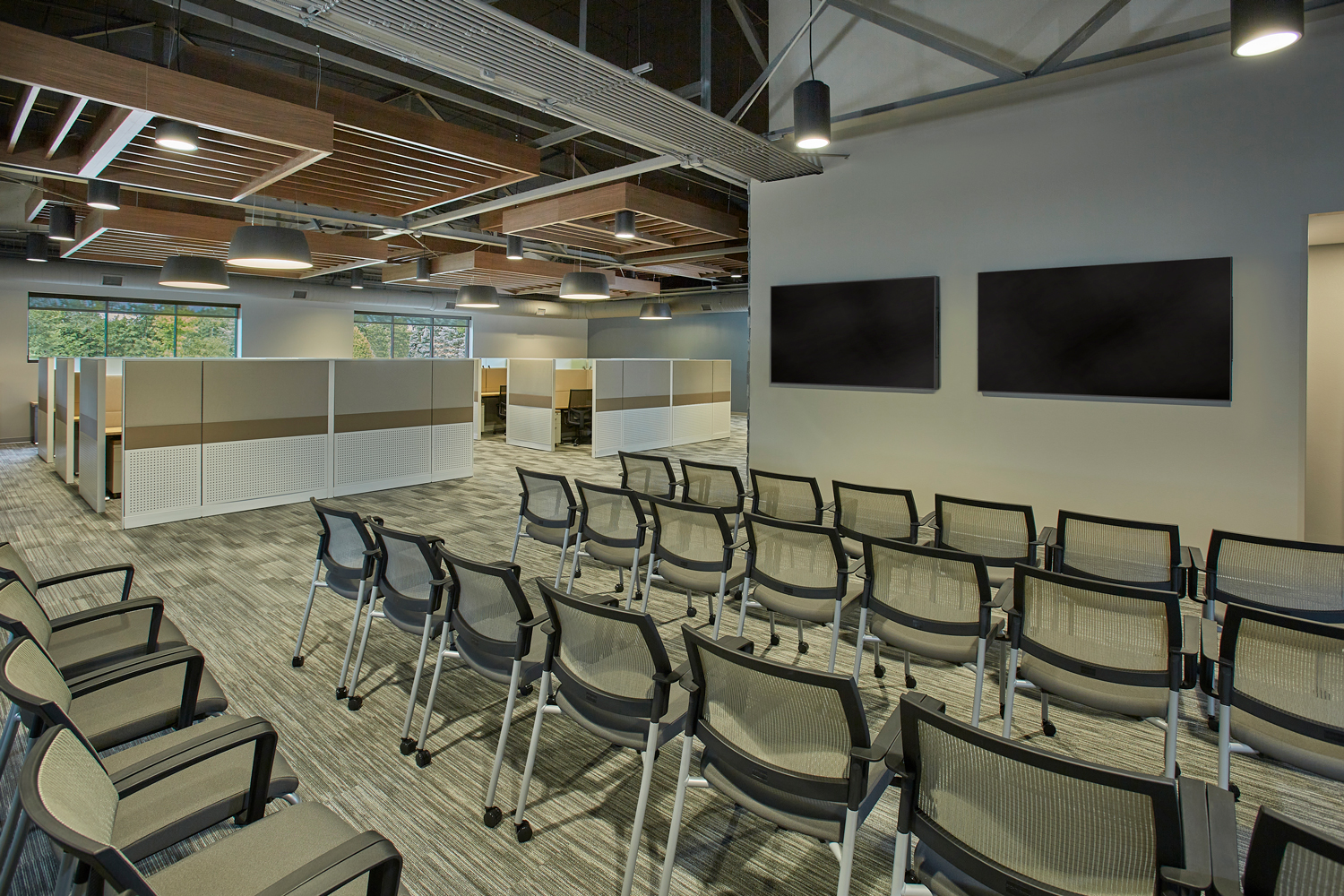 About Ghidorzi Design | Build | Develop
Ghidorzi is a fully integrated design build construction, real estate development, architecture and interior design firm based in Wausau, WI. The Ghidorzi design build construction approach gives owners a single source of accountability for bringing their project vision to life. The Ghidorzi Hotel Group proudly serves the business and leisure travel needs of greater Wausau with a team of exceptional hospitality professionals across four best in class properties, including the Hilton Garden Inn Wausau, Courtyard by Marriott®, Fairfield by Marriott®, Westwood Conference Center and The Apartments at Corporate Cove.